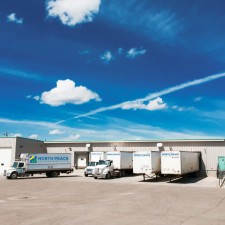 We are a proud agent for Van-Kam Freightways Ltd. exclusively serving the North Peace region including Fort St. John, Dawson Creek and Chetwynd.  We are confident that this new partnership will prove to be beneficial to businesses in the region for many years to come.  We would love to see your freight on board with us in the Northern BC / North Peace region and are confident more than ever that our service will continue to be reliable, on-time and damage free. We would invite you to speak to your sales representative for further information today!
North Peace Transport Ltd. brings with it a group of staff members with many years of experience in freight distribution.  We base our operation out of a modern, fully equipped 6500 square foot warehouse facility with 11 bay doors.  We currently maintain a delivery fleet consisting of two 5 Ton straight trucks with power tailgate and two tandem axle daycab tractors and a 28 foot pup trailer with a railgate, as well as flat deck service.  We will be providing Saturday service as well.
Together North Peace and Van Kam offer outstanding service for the entire region and as B.C. based companies we know how to deliver for your needs.